Kaley Cuoco Plastic Surgery: Before and After Her Boob Job
Are the rumors about Kaley Cuoco's boob job true? She already looks stunning but might have wanted to look even better. Learn all about the actor's plastic surgery and body measurements below.
It were not only funny dialogues, that made The Big Bang Theory so popular. Character of Penny attracted a lot of fans to TV screens. Kaley Cuoco plays hot girl next door and often wears tight undershirts or other clothes revealing her hot body measurements. Her 34C bra size looks awesome in dress with cleavage and getting breast implants was probably smart decision in her case.
"Years ago, I had my nose done and my boobs — best thing I ever did," she revealed in the December issue of Women's Health magazine. "Recently I had a filler in a line in my neck I've had since I was 12." The "Big Bang Theory" actress said she's not ashamed to talk about having plastic surgery.
Kaley Cuoco - Plastic Surgery Photos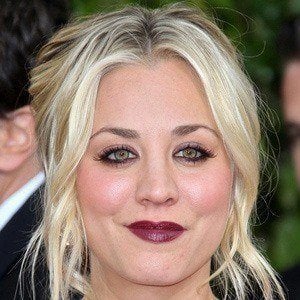 Quotes by Kaley Cuoco
"I'm the type of girl who's always had to buy jeans in three sizes because I never know what my body is going to do from one day to the next."

Kaley Cuoco
"I wasn't allowed to have sugar as a kid. We didn't have candy or soda or anything, so Easter and Halloween were my favorite times 'cause I could eat as much candy as I wanted."

Kaley Cuoco
"I love the fashion world. I love clothes. I love style."

Kaley Cuoco
"I feel like I'm meant to be a mom."

Kaley Cuoco
"I'm a good eater and like to make my own meals. I start my day with granola, fresh fruit, and skim milk and end it with something healthy that also comes from my own kitchen."

Kaley Cuoco