9 Top Celebrities with Body Deformities
Perfection is often linked with celebrities. Their appearances often make us think that life is such a good thing. But one simple rule applies in this beautiful world. Nobody is perfect. We've heard that sentence since we were kids. And we can't deny that. Even celebrities have something that could make them less perfect. We are talking about physical (body and face) flaws here. And these top celebrities, for various reasons, have their own deformities. This is our list of celebrities with body deformities.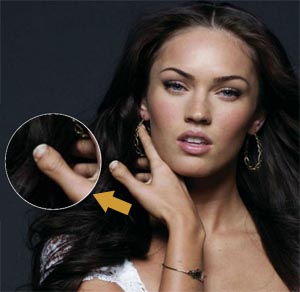 [alert-announce]#1. Megan Fox, Clubbed Thumbs[/alert-announce]
She topped FHM's Sexiest Woman in The World list in 2008. For many people Megan Fox is perfect from head to toe. But wait, you don't include her thumbs, do you? Fox's clubbed thumbs (or some also call they as toe thumbs) are easy to notice. Her thumbs, both left and right, look big with small space for the thumbnails. In an interview she admitted that her thumbs are weird. She is pretty though.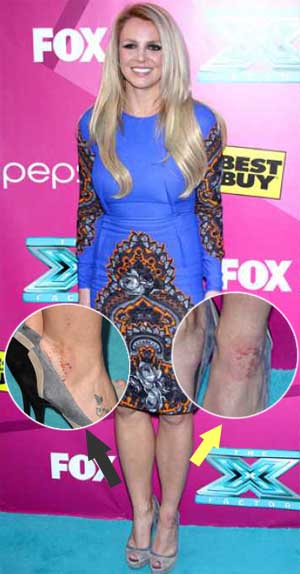 [alert-announce]#2. Britney Spears, Psoriasis[/alert-announce]
Psoriasis is simply a skin disorder and Britney admitted she has it. It could attack elbows, knees, soles of the feet and scalp. Main signs of the affected skin are reddish, inflamed, itchy. It can even cause disorders of fingernails and toenails. It is known that gene, alcohol, smoking and stress trigger Psoriasis. Britney Spears persistently showed that kind of skin, mainly on left ankle and right heel, when she was a judge on X-Factor. Some speculated that show gave pressure and stress to her. In the picture above we can see Brit's smile, but we don't know behind that. However, we know that she left the show after only one season.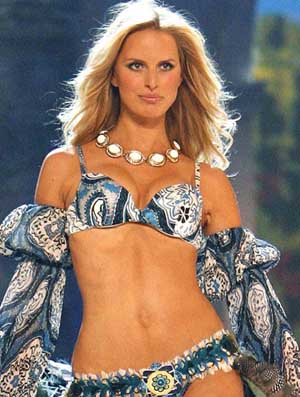 [alert-announce]#3. Karolina Kurkova, No Belly Button[/alert-announce]
If you see a normal belly button shape of Kurkova somewhere, chances are you see an edited work. Former Victoria's Secret Angel, Karolina Kurkova hasn't had belly button since she was an infant. "She had an operation when she was an infant… It's a fact and just thank God she's healthy," her rep told Daily News several years ago. Fact is better. She is one of the hottest, highest-earning models out there.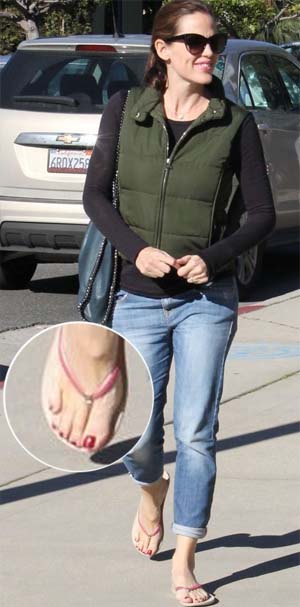 [alert-announce]#4. Jennifer Garner, Brachymetatarsia[/alert-announce]
Brachymetatarsia is an abnormal condition that disturbs toe bones growth. As a result, the affected toe will be either shorter or longer than it normally should. Jennifer Garner shows sign of this deformity. Ben Affleck's ex-wife can't wear boots all the time. This abnormality doesn't stop her from wearing flip flop. Picture above captures unusual appearance on her toe, to be precise, the right little toe.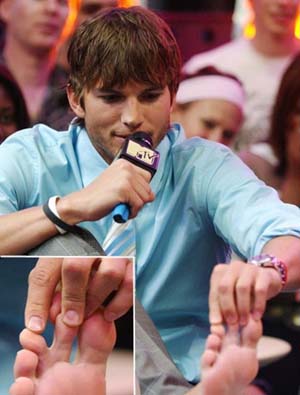 [alert-announce]#5. Ashton Kutcher, Webbed Toes[/alert-announce]
He even took off his socks and shoes on some shows so the world could see his webbed toes. It turned out that Kutcher suffers from congenital abnormality called Syndactyly. His right index toe and middle toe don't scare us at all, do they?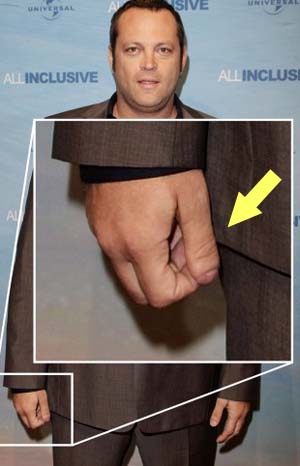 [alert-announce]#6. Vince Vaughn, "Penis Thumb"[/alert-announce]
Yes, that's how he called his own right thumb. You can tell from his photo above why he chose those words. His thumb tip is missing and it looks like, a penis?! What has caused it? Vince Vaughn openly revealed that he got car accident when he was seventeen years old and that simply affected his thumb.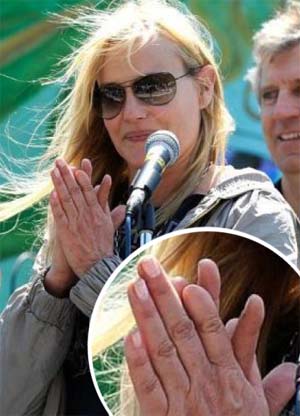 [alert-announce]#7. Daryl Hannah, Missing Fingertip[/alert-announce]
Daryl Hannah has lost part of tip of her left index finger since she was a little kid. She told The Sunday Times of South Africa how she lost it; "I got my finger stuck in the pulley of a well at my grandmother's house when I was three." So unlucky.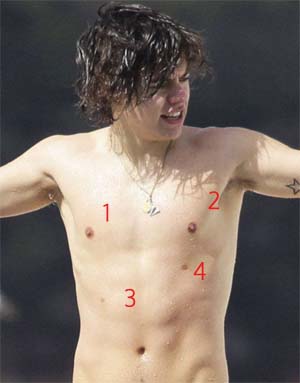 [alert-announce]#8. Harry Styles, Four Nipples[/alert-announce]
One, two, three, four.. you've just counted it. Yes, he has four nipples! He didn't even try to hide his extra nipples. It is easy to find his topless photos. 23-year-old English singer thinks it's from his twin.
"I've got four nipples! I think I must have been a twin, but then the other one went away and left its nipples behind."
One Direction, four nipples, … Six pack could make things more perfect.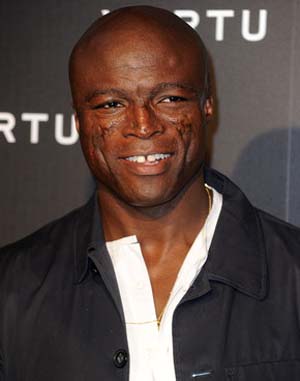 [alert-announce]#9. Seal, Lupus[/alert-announce]
Some make crazy rumor telling that extreme scarring on Seal's face and scalp is due to a tribal scarification rite. Seal Henry Olusegun Olumide Adeola Samuel, or simply Seal made it clear by giving more scientific revelation. In an interview he said that he's suffered from Lupus since he was a teenager. It is Discoid lupus erythematosus (DLE), to be precise. Beside leaving scars on face this Lupus can also cause hair loss. But this abnormality didn't seem to damage his personal life. His marriage with Heidi Klum lasted for, 10 years at least.
Your favorite celebs on the list? We learn something though. These celebrities with body deformities tell us to embrace our flaws. Share your comment.