Cardi B Plastic Surgery, New Teeth, Boob Job, Butt Injections, Before After Pictures
Cardi B has an interesting career full of success and plastic surgery procedures. Indeed she has had work done to her teeth, buttocks and boobs. Her incredible journey stared when she was born in New York City, U.S. in 1992.
Today her achievements are many! In 2017 she won five times at the BET Hip Hop Awards. Later on, in 2018, she won four more times! Furthermore she has won three American Music Awards and also MTV Video Music Awards.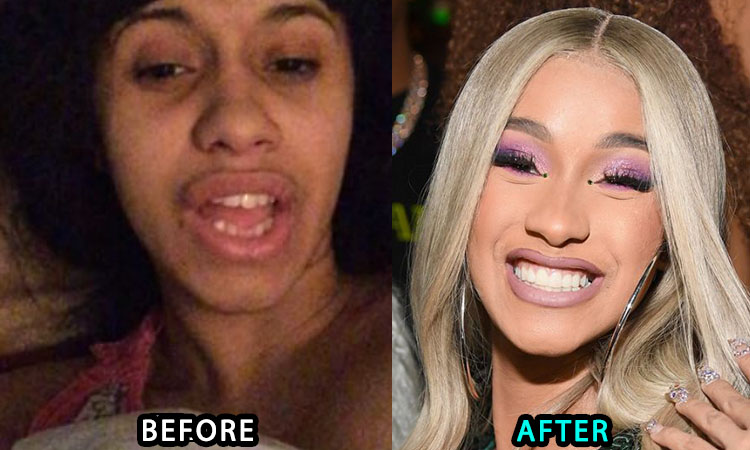 Cardi B is first and foremost an American singer, but she has also appeared on TV. For example she starred as Mercedes in the fourth season of the TV series Being Mary Jane (2017). In 2019 she will play the role of Serena in the upcoming American crime comedy film Hustlers.
Boob Job
Pictures of Cardi B, when she was younger, show us that she hasn't always had a big bosom. So can they be natural? The answer is no! Because it is impossible for breasts to evolve in such a pace as in this case.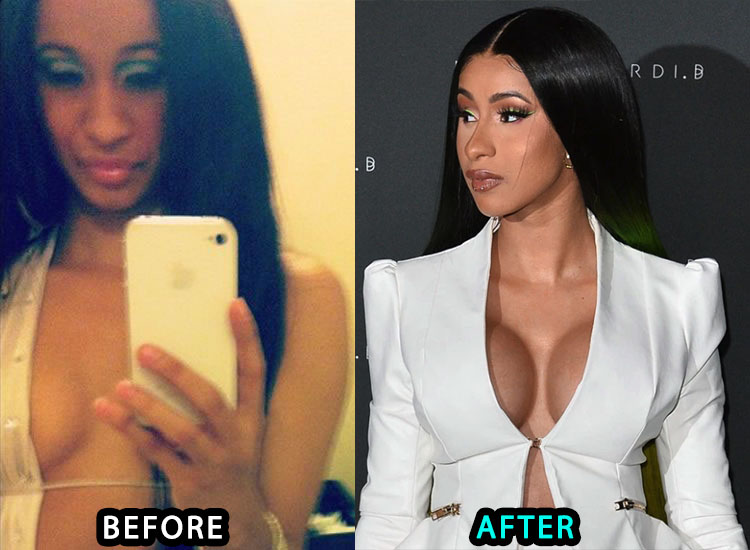 Indeed, if you take a look at Cardi B's chest you will instantly see that plastic surgery is involved. Her breasts don't look natural at all any more. However, the result of plastic surgery was great!
Before Cardi B became a successful singer she worked as a a stripper. It was during that time she did her breast enhancement. She said it helped her get more customers. So she is not denying that she had a boob job.
New Teeth
Cardi B is a natural beauty except for her teeth. The necessity of a boob job and butt injections can be discussed. But it is quite clear that it was a wise choice to go under the knife in order to get her teeth fixed.
To be honest her teeth looked quite bad before. But now they look absolutely great! Today all super stars have perfect teeth. So did she really have a choice?  The most important thing though, is that Cardi B herself is content with her looks.
Butt Injections
Cardi B is a natural beauty (besides from her teeth perhaps). However she wasn't completely satisfied with the look of her butt. Therefore she decided to take action and do something about this matter.
Indeed, she had a butt injections in 2019 to enhance her curves. Although the result was great in the end, there were complications. It is said that her butt leaked for several days after the cosmetic procedure. It caused her a lot of pain. Only Cardi B can decide if it was worth it or not.